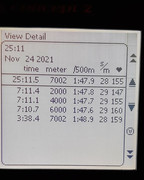 Not so much a failed 10k, as a good 7k.
I knew from circa 700m in that it wasn't a good day, but I resolved to keep going and see what happens. I'm really patchy with my performances, and desire, atm so it wasn't unexpected. I'm feeling more tired and lethargic than normal despite additional rest days.
I finished off with a 30 min rate ladder just to get in some more metres.